Oliver Hafke Ahmad with "Back & Fourth" in September live in Erfurt
In September Oliver's ensemble will perform for the first time in the Jazzclub Erfurt. First time with us: Eyal Lovett on Piano and Keyboards (Shota Higashikawa on 7-String-Bass and Benjamin Strauss on Drums). The quartet will present songs of our first release "Back & Fourth" and more unreleased material. More informations on the website of Jazzclub Erfurt e.V. (Saturday, September 19 2015, doors open 20:00h, show time 20:30h)
---
Oliver Hafke Ahmad´s Jazz Nomads meet The Hammour Brothers live at Zig Zag Jazz Club Berlin
In July Oliver Hafke Ahmad performs for the first time with the Hammour Brothers from Damascus at Zig Zag Jazz Club in Berlin Friedenau (Hauptstraße 89, 12159 Berlin) near Innsbrucker Platz. T phey present Songs of the Oliver's latest album "Back & Fourth" and some new unpublished material. Amr Hammour plays guitar and sings, his brother Bilal plays a 6-String-Bass. More Infos on the website of the Zig Zag Jazzclub Berlin. (Thursday, 23.July 2015, Start: 21:00 Uhr, entrance free, donation welcome)
---
A mixture of Jazz, Funk & Electronics
Oliver Hafke Ahmad's first album as a leader has been released on the artist's own label Urban Grooves Berlin Records. You will find twelve tracks between Funk, Jazz, Pop and Electronics all written and arranged by Oliver, performed by his quartet with French pianist Thibault Falk, Japanese 7-String-Bassist Shota Higashikawa and the German drummer Benjamin Strauss. The title of the album Back and Fourth reminds of the unstable life of an artist, the tension between tradition and innovation, and the backbeat in music as well as the interval fourth or playing in a quartet.
The album has been recorded in Berlin with love for many details and Oliver edited and mixed it afterwards on his own. He is also responsible for the artwork. Oliver portraited himself and his bandmembers in a visual mixture of concentration and dynamic at the same time, a symbol for the music the quartet has recorded here. Oliver's debut album summarizes his many experiences in the music business as musician, journalist, promoter, photographer and now also label owner.
The nationwide acclaimed daily newspaper Berliner Zeitung has reviewed the album in January. Music journalist Christian Broecking finds the album "succesful" and hears an "impressive result". The hip German jazz magazine Jazzthing hears "pliant sounds between jazz-rock, soul, funk and pop".
The album "Back & Fourth" has been released as digital download on October 1st 2014. You can listen and order the album here.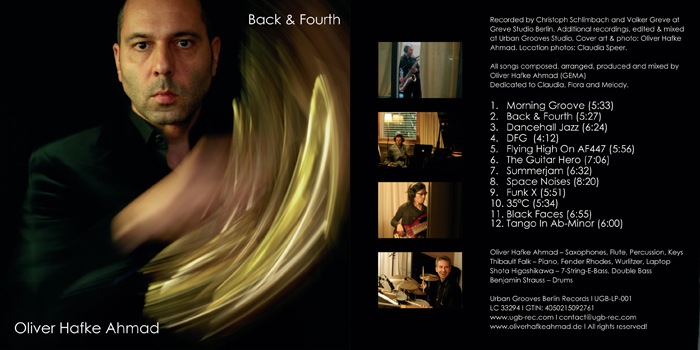 ---
"Back & Fourth" live at B-Flat Berlin, Feb 2 2015
Oliver Hafke Ahmad`s Jazz Nomads, Postmigrant Urban Grooves (Jazz, Funk, Electronics): Oliver Hafke Ahmad (Saxophon), Thibault Falk (Piano, Electronics), Shota Higashikawa (7-String-Bass), Benjamin Strauss (Drums). Venue: B-Flat, Rosenthalerstr. 13 in Berlin-Mitte, Feb. 02 2015, doors open: 20:00h, start: 21:00h.
---
A musical comment on surveillance via internet and mobile devices - inspired by Kraftwerk
Electronic Music Project - National Sound Agency: First single and video "Identity Thieves" is released worldwide!
National Sound Agency is a music project from Berlin. This first release is a tribute to the legendary German band Kraftwerk. The highly topical lyrics of this song discuss the internet as a media of surveillance. An electronic voice sings:"No, you don't know me, I stole your identity." It is a grooving track for dancing and (afterwards) thinking. The song will be released digitally on the artist's own label URBAN GROOVES RECORDS. The first idea was an experiment with the vocoder and one single vocal line. The public discussion about internet surveillance, massive data colletcting and whistleblower Edward Snowden gave the final idea for the lyrics of the song. Sophisticated sounds, a groove to dance to and the relevance of the issue make the song a remarkable musical statement.
The complete lyrics of the song you find here.
You can download "Identity Thieves" here.