Future Blues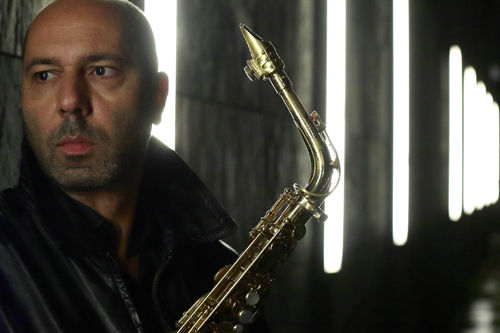 New Album FUTURE BLUES out now!
(Release: June 21, 2019)
March / April 2019. Four years after his solo debut Back & Fourth Oliver Hafke Ahmad is issuing some new songs, which he produced in the last years. While the last album was recorded with his live band, the new album FUTURE BLUES is completely self-produced and recorded. Beside saxophone and flute Oliver also recorded all keyboards, synthesizers, guitars, additional percussion instruments and programmed the virtual drum sets.
"On this album I worked like a painter, developed all songs and compositions from first sketches in black and white to complete works in colorful arrangements." In this solo-recording you can hear many influences of electronic music, pop and jazz. Carefully programmed parts are well balanced with live performed and recorded instruments. It embeds the traditional jazz instrument saxophone in a contemporary sound that doesn't imitate the glorious past of blues and jazz but points into a future where the analogue individual is surrounded by an increasingly digital world.
Januar 2020. In the annual charts of 140 music journalists of National Public Radio the Berlin based jazz journalist and music sociologist Christian Broecking (author of several books and in German magazine Jazzthing or daily newspaper Berliner Zeitung) put the album FUTURE BLUES on number 6 of his ten best albums of the des year 2019. Broecking puts FUTURE BLUES between albums of Wadada Leo Smith (Rosa Parks: Pure Love) and the Art Ensemble of Chicago (We Are On The Edge). What an honour! The complete list you can find here.
FUTURE BLUES Airplay / Netplay
North german public radio NDRKultur played half an hour on 16. July 2019 music from the album FUTURE BLUES (Playlist here). Also in a playlist of FreeFallRadio from San Francisco (Free Fall 875) you can find music from FUTURE BLUES. More Airplay on local fm-frequency and online at the Berlin based JazzRadio (Single "Future Blues" in Rotation), rockradio.de...
---
Single FUTURE BLUES out now!
(Release: May 17, 2019)
The first single of the new album is released. It is a twelve bar blues on a house beat. Jazz is meeting electronic dance music. The single is a first impression of the new upcoming album Future Blues. Oliver Hafke Ahmad is featured on the first single on tenor sax and flute and has also recorded all other instruments and programmed the beats and synthesizers.
Follow the link to the single Future Blues on Spotify.
---
More news in our news archive.